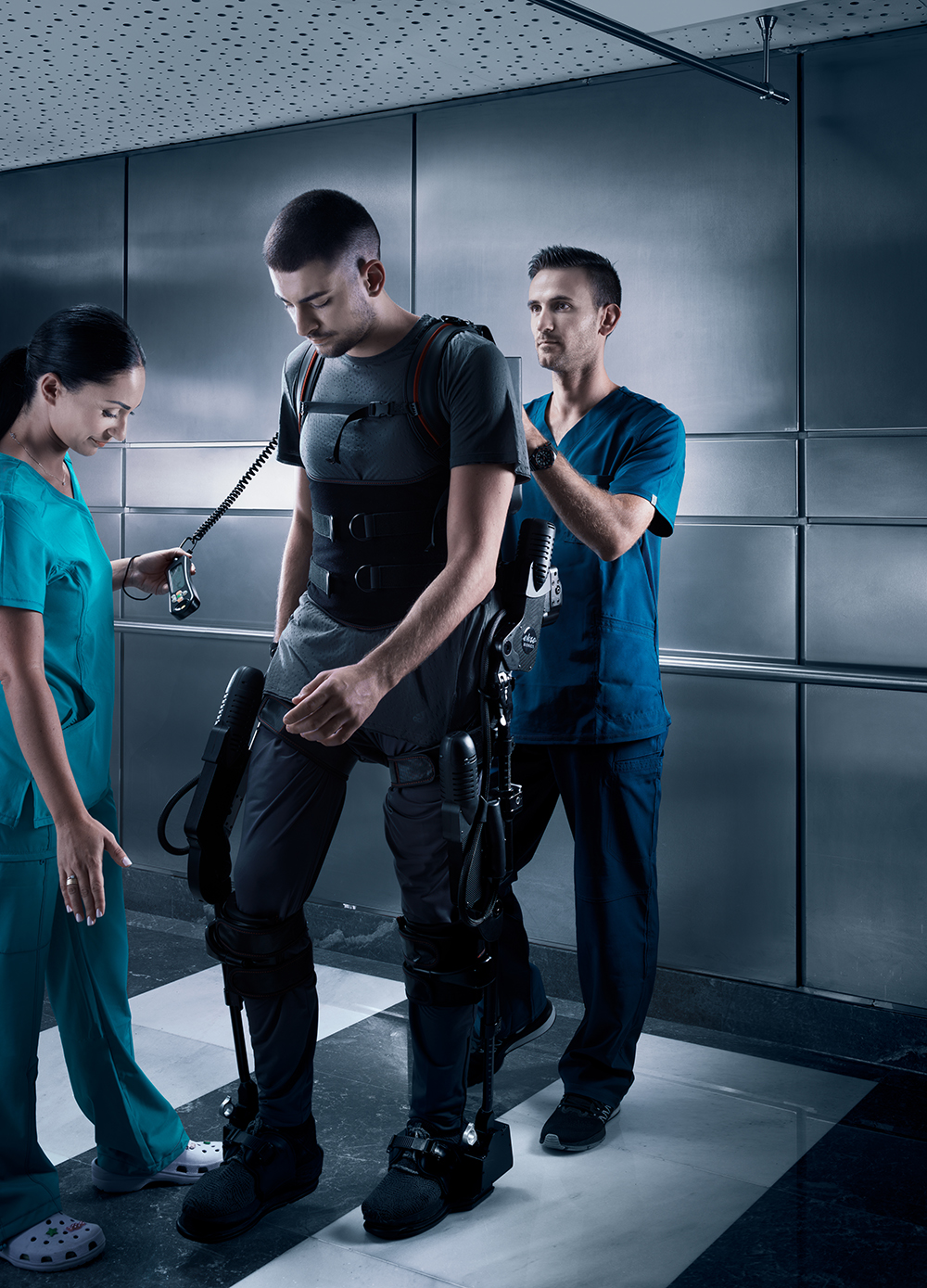 EKSO Bionics
Robotic exoskeleton gait system
The evolution in gait recovery



In February 2016, ANAGENNISI acquired the first exoskeletal gait system in Southeastern Europe,

 

the Ekso GT

 

™.

It is a technology that enhances the potential of every patient, no matter how serious the walking problem is. It offers the hope of greater mobility and independence.

Designed for clinical use, it provides an incomparable rehabilitation experience to patients and therapists. It promotes cooperation, boosts self-confidence, speeds up recovery times.
The Ekso GT ™ is the first FDA-approved robotic exoskeleton system for the rehabilitation of patients after a stroke or spinal cord injury (T3 – C7, ASIA D). Its use has changed the course of gait neurorehabilitation by providing a means of practice and retraining that enhances not only the patient's strength and abilities, but also the therapist's ability to work more effectively with their patients.
It is a robotic exoskeleton, which allows people with lower extremity limitations to stand up and walk over ground on a natural gait pattern. It is easily worn over clothes and its operating system "generates" every step, allowing patients to stand on their own feet from the very first session.
Walking is achieved through the changes in the user's gravity center, which are detected by the special sensors of the device and they, in turn, generate a sequence of steps, replacing the neuromuscular function. Therefore, the Ekso GT targets a wide range of patients with gait problems, from complete paralysis to minor disorders, even with minimal hand grip strength (low-level or high-level paraplegia and hemiplegia).
The benefits of treatment
With Ekso GT, patients can:
achieve correct gait patterns maintaining the accuracy of the movement
perform more steps each time
gradually develop their skills
benefit from all the advantages of mobilizing their limbs while standing up, and even walking
learn to walk again
regain confidence, courage and strength.