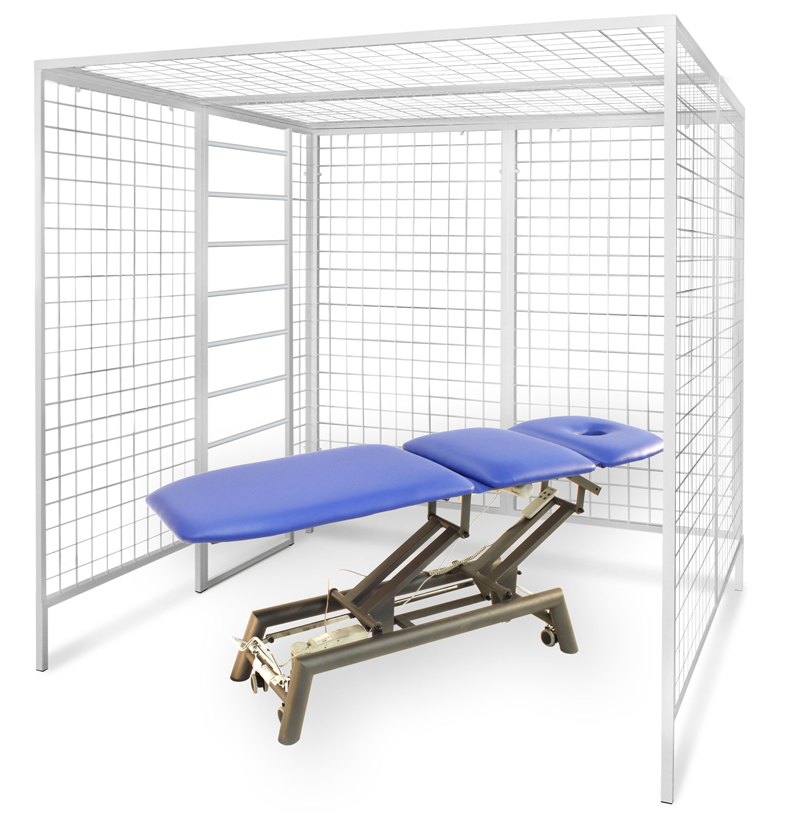 Pulley Therapy UGUL & Spider
Intensive training using the UGUL Cage, also known as the Universal Exercise Unit, allows patients to engage in customized exercises. The metal structure includes a system of pulleys  and weights for strengthening and stretching muscles. Muscle groups are isolated with the use of sandbags, straps, or braces. The pulley system is used in conjunction with various degrees of weight to help patients concentrate on strengthening specific muscles needed to perform activities.
Suspended therapy is the process of hanging a person (in whole or in part) in certain positions using special cuffs. The whole body is hung over the couch, and the person is literally in a state of weightlessness. It relaxes all the muscles of the body. Some patients fall asleep during this procedure, from which its effect is further enhanced. Muscle relaxation improves blood circulation, as a result of which tissue nutrition improves.
Such therapy is used to reduce joint pain (bruises, arthritis), increase joint mobility (after injuries, inflammation), relieve muscle tension, increase efficiency, improve sleep and well-being.
Typically, patients' muscles are prepared during the UGUL session for performance-based activities. This may also include massage and heat/ cold therapy. Once the body is prepared, individuals are better able to carry out exercises in our Spider and Suit Therapy as well as their functions in every day life.

Research has shown that strengthening muscles is crucial in the treatment of e.g. Cerebral Palsy. This approach allows patients to begin at any level to gradually increase their strength and learn how to control their muscles in the process. Using the UGUL Cage, a trained therapist can even help teach patients that don't know how to move ways in which they can strengthen their muscles.
Ugul therapy is effective in diseases of the joints and spine, such as:
Violation of posture

Osteochondrosis

Fractures of the bones

Sprains and bruises

The arthritis

Post-traumatic conditions

Recovery period after stroke.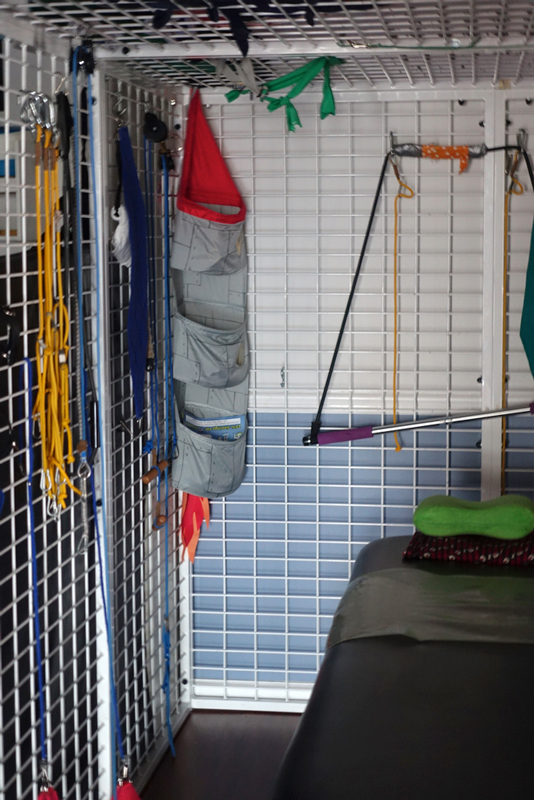 SPIDER (Strengthening Program for Intensive Developmental Exercises and activities for Reaching health capability) is dedicated for patients suffering from Cerebral Palsy, Sclerosis Multiplex, Spinal Bifida, Spinal Muscular Atrophy and strokes. Authors proposed a computer model for the evaluation patient's condition and the rehabilitation progress.
The SPIDER Strengthening Program for Intensive Developmental Exercises and activities for Reaching health capability) system came into being in 1993 and has helped to improve a mobility and independence of patients with neurological disorders. Most of the patients trained in SPIDER device suffered from Cerebral Palsy, Sclerosis Multiplex, Spinal Bifida, Spinal Muscular Atrophy (SMA) and strokes. Many specialists have appreciated the advantages of this equipment. It has been tested in a Public Open Treatment Hospital in Warsaw and also in the area of Warsaw. SPIDER can be used for the therapy of both children and elder people. A therapist leads a rehabilitation program with full consent of the patients. SPIDER equipment was developed as an answer to the missing link in rehabilitation. It enables physicians and therapists to design and administer a complete range of rehabilitation for almost every type of disorder. Exercises with SPIDER cage can strengthen patients' muscles, improve their coordination, help in verticalization and in finding body balance by using very simple but very usable body supporting elements, described further. Consequently, the cage improves the movement of patients wheelchaired and even enables them stand independently.
SPIDER improves patients' mobility and effectively reduces the disorders of the Central Nervous System, which is beyond a traditional therapy. SPIDER device interacts through proprioceptive and incomplete input information. This allows to adjust muscle tone during a movement, maintain a certain position of the body, as well as to keep a sense of balance and confidence to the force of gravity. A change in the muscle tension distribution, as the result of the use of the device, enables the change of the arrangement of individual body parts and completely modifies the image of proprioceptive information.
Contact us to send you more information about the available programs!