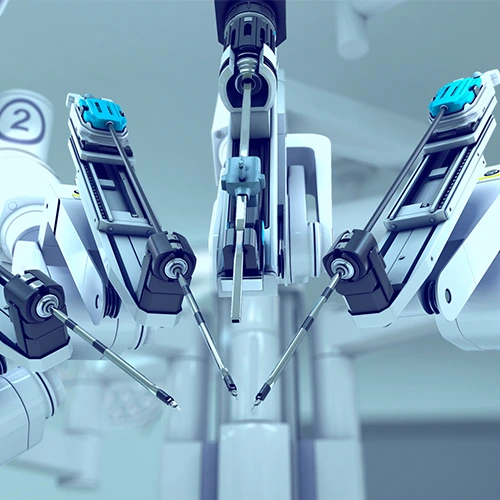 Da Vinci Robotic System
The da Vinci surgical system is an advanced and effective tool for performing minimally invasive surgeries. The da Vinci robot acts as an extension of the surgeon's hands and fingers in miniature and enables advanced keyhole procedures which help eliminate potential human problems such as hand tremor. Surgeons can control the device's arms with immense precision during minimally invasive operations when surgery is taking place within a confined space where pinpoint accuracy is needed.
How does the da Vinci system work?
The da Vinci surgery is robot-assisted and minimally invasive, done via small incisions. The robot acts as an extension of the surgeon's hands, mimicking their movements with precise detail. One of the robot's arms holds the lighting and a very small 3D camera, and the others hold the surgical instruments. The robot's hands offer a high degree of dexterity, which enables surgeons to operate in the very tight spaces and delicate tissues of the genitourinary tract that otherwise would only be accessed through the longer incisions of open surgery. The da Vinci robot is a self-empowered, computer-controlled device that has been programmed to help in the positioning and maneuvering of surgical instruments. It gives surgeons better precision, flexibility, accuracy, and control over surgical procedures.
Surgeon stays with a patient in the operating room, seated at the da Vinci system console. The console gives surgeon control of the instruments he uses to perform a surgery. Surgical procedures involve a full team of highly-trained experts, including lead surgeons, assisting surgeons, nurses, anesthesiologists, and more.

The da Vinci vision system delivers 3D high-definition views, giving your surgeon a crystal-clear view of the surgical area that is magnified 10 times to what the human eye sees.

Surgeon uses tiny instruments that move like a human hand but with a far greater range of motion. The system's built-in tremor-filtration technology helps your surgeon move each instrument with smooth precision.

What are the advantages of the da Vinci surgical system?
It ensures that surgeries are more precise by providing better visualization, improved dexterity and greater accuracy
It enables surgeons to conduct complex surgical procedures using tiny incisions
It replicates the surgeon's technique and movements in real-time, with the surgeon seated just a feet away from the patient viewing an actual image of the operating field while performing the procedure in real-time by manipulating a miniaturized instrument and using tiny incisions
It transmits force feedback sensations from the operating field to the surgeon, which are then used as a substitute for tactile sensations and are augmented by the superior vision offered by the high-resolution 3D view to deliver better visualization, accuracy and precision.
What Are the Benefits of Robotic Surgery for patients?
As robotic surgery is less invasive than traditional "open" surgery, many patients experience:
Faster recovery
Less postoperative pain
Lower complication rates
Improved outcomes
Reduced blood loss
Less scarring
Shorter length of hospital stays.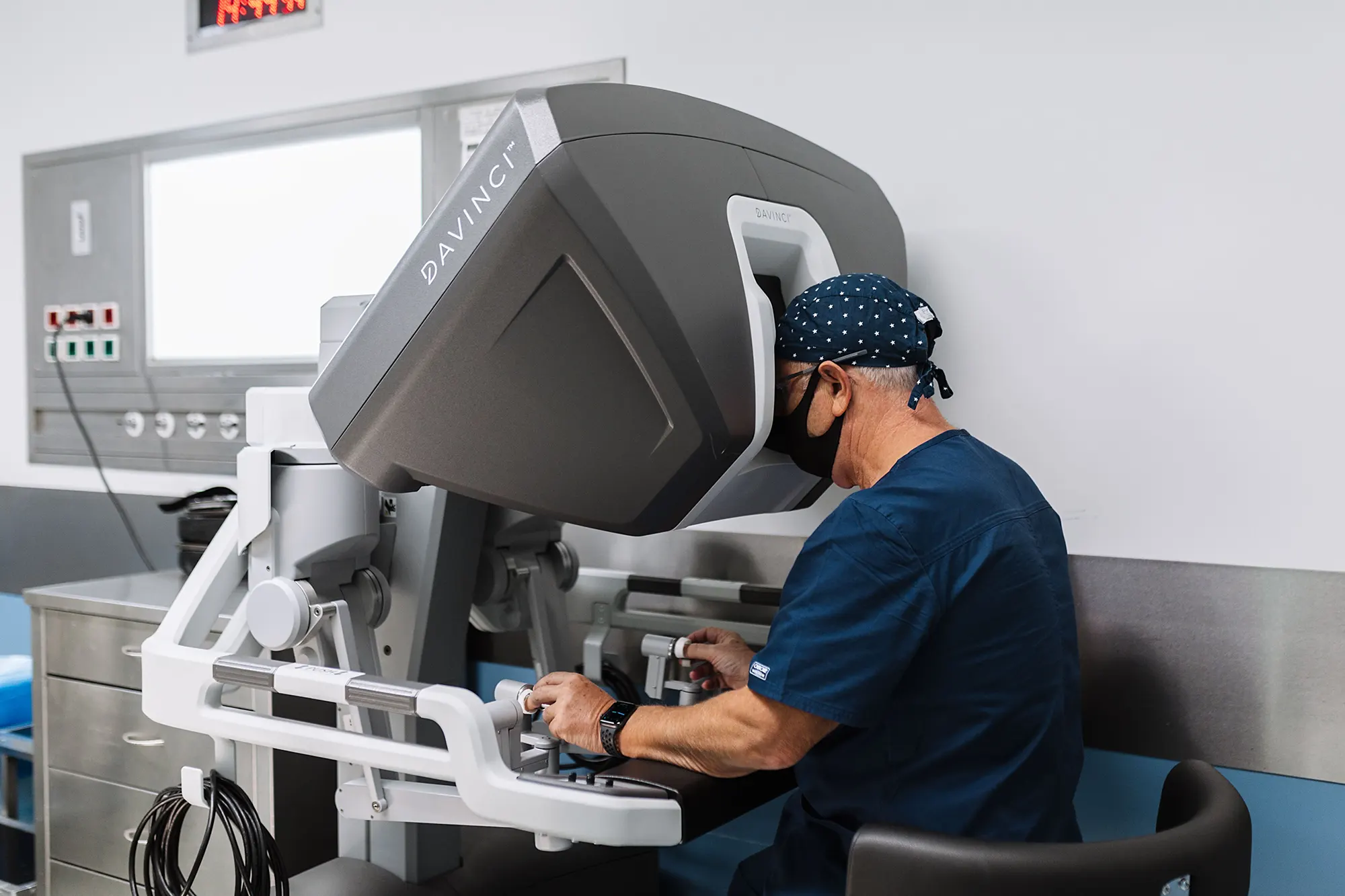 At St Luke's hospital in Greece, we have incorporated the da Vinci surgical system into our practice. Over the years, we have been able to use the increased range of motion, improved visualization, enhanced dexterity, and greater surgical precision offered by the robotic system to deliver improved treatment outcomes to our patients.
Da Vinci procedures are performed for a wide range of conditions in specialties including cardiac, urologic, gynecologic, pediatric and general surgery.
What surgeries does the Da Vinci robot do?
The da Vinci Surgical System is a tool that helps surgeons perform a variety of surgeries including gynecological surgeries, urological, head and neck, thoracic, colorectal, cardiac and general surgeries.
Urological surgeries
The most common urological procedure currently performed using the daVinci Surgical System is radical prostatectomy (radical removal of the prostate gland for localized prostate carcinoma, especially protecting the potency nerve bundles and the urethral sphincter).
Other conditions for which robot-assisted surgery is indicated:
Pyeloplasty
Adrenalectomy (removal of the adrenal gland or adrenal tumor)
Tumor nephrectomy or partial kidney resection
Radical cystectomy
Some types of treatment for urinary incontinence (sacrocolpopexy)
Radical prostatectomy for prostate carcinoma
Partial nephrectomy for renal cell carcinoma
Radical bladder removal
Retroperitoneal lymph nodes dissection for testicular carcinoma
Kidney removal and ureter removal
Renal pyeloplasty for stenosis
Prostatectomy benign prostate enlargement and large prostate
Uterosacropexy
Sacrocolpopexy with Burch colposuspension for prolapse and urinary incontinence in women
Unilateral / bilateral adnexectomy
Enucleation of fibroids
Anastomosis
Partial resection of ureteral endometriosis
Extirpation of ovarian endometriosis
Colposacropexy
Fistula surgery
Lymphadenectomy.
Thoracic surgery
The robotic surgical complex is successfully used in operations to remove the entire lung (pneumonectomy), one lobe (lobectomy) or one segment (segmentectomy). In addition, the robot can be successfully used in operations on the esophagus, operations to remove cysts and masses lying in the area between the lungs, called the mediastinum.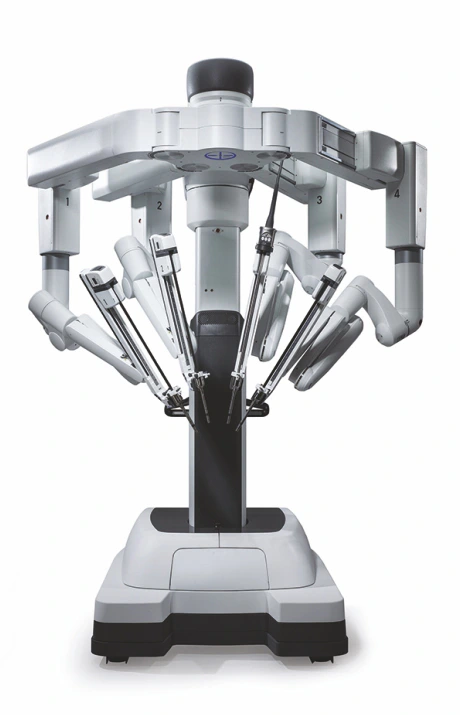 Cardiac surgery
Robotic surgery is used in mitral valve replacement and repair, tricuspid valve replacement and repair, ASD (Atrial Septal Defect), VSD (Ventricular Septal Defect), PDA (Patent Ductus Arteriosus) closure, and cardiac tumor removal.
Gynecology
Abdominal Pain and Pelvic Pain
Cervical Cancer
Endometrial Cancer
Endometriosis
Gynecologic Cancer
Hysterectomy
Minimally Invasive Surgery
Myomectomy
Obstetrics/Gynecology
Ovarian Cancer
Painful Periods and Heavy Bleeding
Pelvic Organ Prolapse
Uterine Fibroids
General surgery
In general surgery, the robotic system is widely used in bariatric surgeries, but to a greater extent it is used to treat diseases of the stomach and gastrointestinal tract.
Stomach cancer
Benign gastric tumors
Hiatal hernia, reflux surgery
Heller Myotomy for Achalasia
Gastrointestinal cancer
Esophagectomy
Transthoracic esophagectomy
Benign tumors of the digestive system.
Types of cancer diseases for which robotic surgery is used:
Thyroid cancer
Cancer of the digestive system
Stomach cancer
Large intestine cancer
Rectal cancer
Liver cancer
Pancreatic cancer
Adrenal cancer.