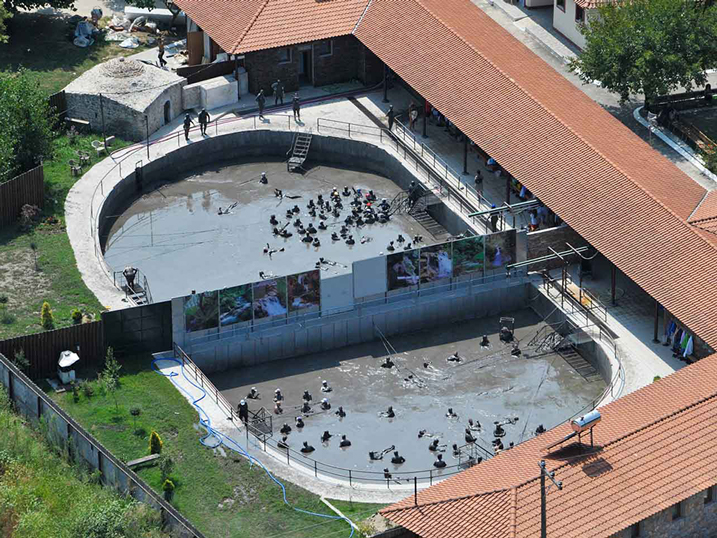 KRINIDES CLAY CENTER
The area catering to health-care today with the use of thermal clay mud has acted as "nature's sustainable laboratory", for tens of thousands of years, producing with admirable accuracy this substance, so valuable for man's health. In the past, geological, environmental, biological and chemical conditions, as well as various sophisticated mechanisms, contributed to the creation of a suitable environment for the natural production and maturation of curative clay.
Thermal springs have been embraced throughout history for their extraordinary health benefits. Their healing properties were early-on discovered by the ancient Greeks. Stories passed down from generation to generation tell about the healing benefits of clay for the human body. The global fame of the thermal mud baths at Krinides is owed to such stories, but also to confessions by hundreds of people, in Greece and abroad, who were cured of chronic ailments and aches.
MEDICAL CONDITIONS THAT BENEFIT FROM THE USE OF CURATIVE CLAY
Rheumatological disorders (trauma disorders, inflammatory arthritis, neuralgia)
Post-trauma treatment (sprains, contusions, hematoma, bone fractures)
Gynecological conditions (inflammatory disorders in the reproductive area, menstrual cycle disorders, menorrhoea, symphysis owed to gynecological surgery, aidiitides colpitis, pyeloperitonitides)
Cardiovascular conditions (vascular disorders, phlebitis, endoartiritida)
Skin disorders (eczema, acne, psoriasis, local dermatitis, itching).
Nervous system disorders (traumatic paralysis of the nerves, but even loss of sense).
Can be used for cosmetic puposes.