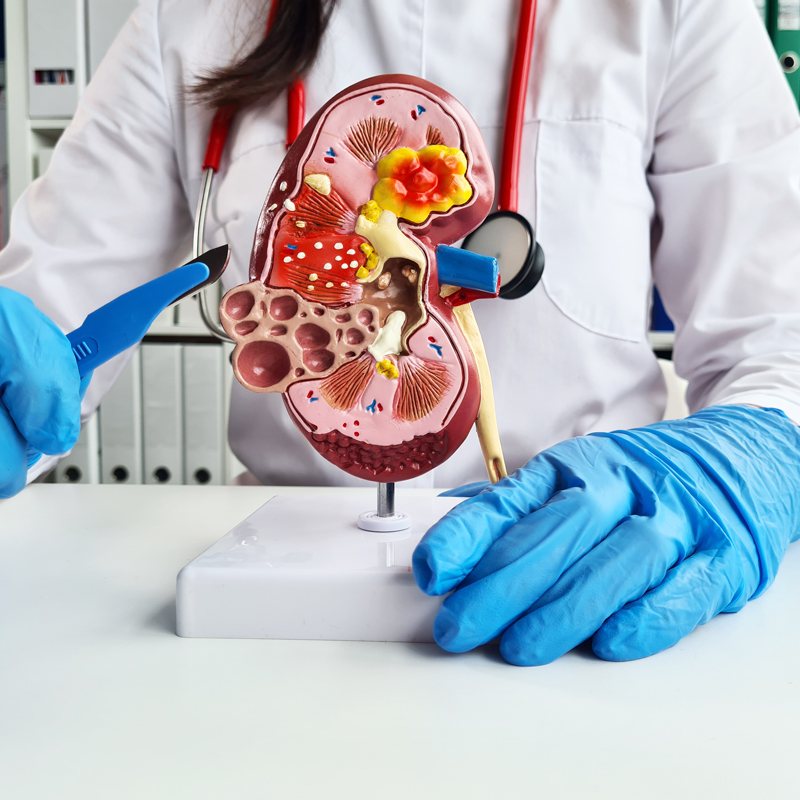 Nephrology
Nephrology is a medical science that deals with the diagnosis of kidney diseases and their treatment (medication, dialysis, transplantation), as well as monitoring patients with a transplanted kidney.
Most diseases that affect the kidney are not limited to the organ itself but are a manifestation of general disorders. It has now been proven that chronic kidney disease is a risk factor for the development and progression of cardiovascular diseases.
On the other hand, some chronic diseases of other organs (hypertension, diabetes mellitus, hepatitis, rheumatic diseases, etc.) can cause kidney damage.
Reasons to visit a nephrologist are usually:
swelling

redness or darkening of the urine

pain in the lumbar region

high blood pressure (hypertension) that is difficult to treat

Abnormalities in a blood chemistry test (increased creatinine or urea) or urinalysis (any changes – protein in the urine, erythrocytes or leukocytes in the urine, and casts, bacteria, crystals, or acetone in the urine)

anaemia (decrease in haemoglobin and erythrocytes) of unknown origin

a sharp increase or decrease in the amount of urine per day.
 Consultation with a nephrologist is necessary in the presence of diseases:
glomerulonephritis

urinary tract infections

pyelonephritis

acute renal failure (reduction or cessation of urine separation)

chronic renal failure

complications of chronic renal failure (anaemia, vitamin D deficiency, osteoporosis, disorders of water and electrolyte metabolism)

kidney damage in diabetes mellitus, hypertension, obesity, and other chronic diseases.
Signs of kidney damage are noted in every tenth inhabitant of the Earth. But many who suffer from chronic kidney disease do not even suspect that they are sick for a long time. The insidiousness of kidney diseases lies in the fact that it can go undiagnosed for many years, not cause any complaints, and appear only at the final stage of the disease, when the disease is almost untreatable. Therefore, it is possible to detect kidney disease in time only after passing a medical examination, passing urine and blood tests.
In our Nephrology department, all diseases that affect the kidneys either directly or indirectly (systemic diseases) are treated extensively, and this includes:
Acute renal failure
 Complications of chronic renal failure
Diabetic nephropathy
Hypertension deregulation
Hereditary or congenital diseases, such as polycystic kidney disease
Urinary tract infections
Glomerulonephritis
Systemic diseases with kidney involvement are also treated in our department, such as:
Systemic lupus erythematosus
Angiitis
Hematological diseases
Modern diagnostic equipment
In the Nephrology department of the hospital, complete investigation of nephrological diseases is carried out with all modern, non-invasive diagnostic means, with the help of St Luke's state-of-the-art laboratories. Also, guided diagnostic kidney biopsies are performed where deemed necessary. Finally, all forms of arterial hypertension are investigated and treated, especially those related to kidney function.
New Artificial Kidney Unit
With the assistance of the new, modern Artificial Kidney Unit operating within the Clinic, the following can be treated:
All cases of renal failure
Incidents at the level of intensive care units with the application of continuous hemodialysis methods
Difficult and complex diseases with the application of special therapeutic methods, such as plasmapheresis.
Also, in collaboration with the vascular surgeons and interventional radiologists,  the most specialized operations are performed, such as:
Placement of temporary (subclavian or jugular) dialysis catheters
Correction of thrombosed vascular accesses in hemopurifier patients.
At the same time, all stages of preparation are carried out in patients who are expected to undergo a kidney transplant, while the follow-up continues even after it.