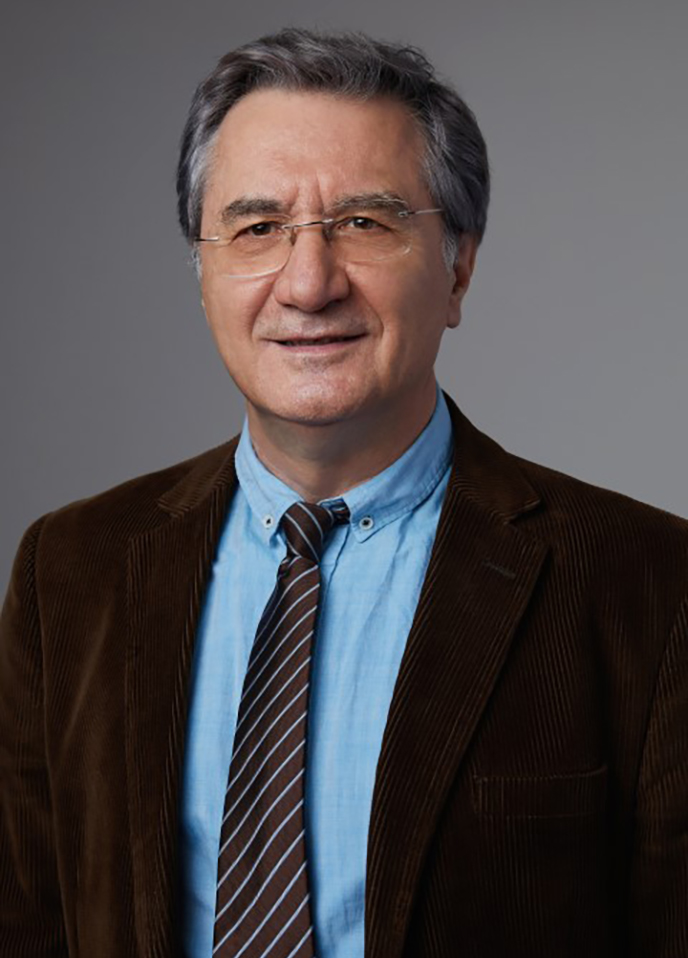 Doctor Tzotzas Themistoklis
Endocrinologist
Director of the Department of Endocrinology-Diabetes-Metabolism in St-Luke's private General Hospital since 2011 and collaborator physician in the Unit "Obesity and Related Disorders" in the same hospital. 

 

Doctor Tzotzas acquired a good experience in all spectrum of endocrine and metabolic diseases:

Thyroid and parathyroid diseases
Bone metabolism and osteoporosis
Pituitary and adrenal disorders
Male and female reproductive disorders
Child and adolescent endocrinology 
Specific specialization in cardiometabolic diseases (obesity, dyslipidemia, diabetes mellitus).

 

Doctor Tzotzas graduated from the Medical School of Aristotle University of Thessaloniki and trained in Internal Medicine as well as Endocrinology, Diabetes and

Metabolism in the department of Endocrinology and Metabolism at Pitié-Salpêtrière Hospital in Paris between 1982 and 1988. During 1988, he worked as Chef de
Clinique at the same hospital. In Paris, he trained and part-time worked for 4 years at the "Fondation de Recherche en Hormonologie" laboratory where he acquired
special experience on hormonal measurements and interpretation. 

He received with excellent degree his doctorate in the University of Thessaloniki in 2007. 

From 1990 to 2013, he worked as an Endocrinologist-attending physician in the department of Endocrinology- Diabetes-Metabolism in "Panagia" General Hospital and from 2013-2014, as Director in "Agios Pavlos" General Hospital in Thessaloniki, Greece. 

Certificate of Recognition of Quality in Endocrinology (RQE) delivered by UEMS (Union Européenne des Médecins Spécialistes) in 2002 and nominated as a 'European
Fellow' of the Specialist Certification of Obesity Professionals in Europe (SCOPE) since 2004. 

Scientific associate in the Department of Clinical Nutrition at the International University of Thessaloniki Institute from 2008-2013. 

At present, he is teaching in two postgraduate master diplomas on 'Clinical Nutrition' and "Diabetes Mellitus" in the same University.

His research activity focuses on lipid disorders, obesity, diabetes mellitus, thyroid diseases and he authored over 50 peer review Medline articles (8717 citations, h-
index 27), 35 national original papers, 8 chapters in national books and 3 in international ones. 

 

Doctor Tzotzas received 8 awards for oral/poster presentations in national and international congresses. 

Scientific coordinator and main participant in five Epidemiological/ Interventional Surveys on Obesity in children and adults in Greece.
As past vice-president, secretary and member of the council of Hellenic Medical Association for Obesity he co-organized national and international congresses on
obesity and authored national guidelines in childhood and obesity in adults. 

Since 2014, scientific associate in the 1st Propeudeutic clinic in the University of Thessaloniki, at AHEPA Hospital.
In the Endocrinology department of St-Luke's Hospital he follows more than 800 patients with endocrine and metabolic diseases and over 100 patients in the Obesity
Unit where obesity is treated holistically by 7 scientific specialists. 

 

He also collaborates with the Endocrine Surgical Department of the hospital for patients with thyroid and parathyroid neoplasms and with the Ophthalmology Department for
thyroid ophthalmopathy and diabetic retinopathy.
Due to influences by the French medical human approach and the nature of his specialty, he spends much time attending and discussing endocrinology issues
with each patient.