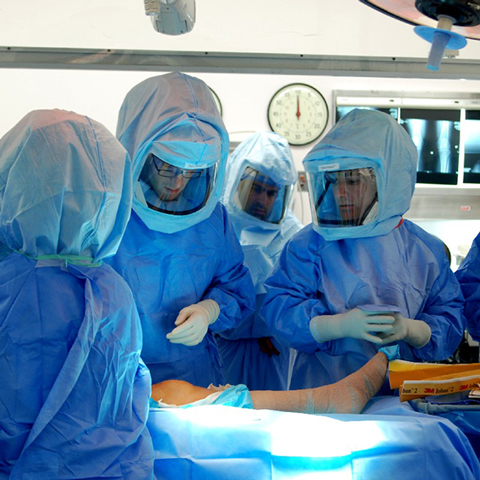 Orthopedics
The Orthopedic department is one of the first to operate in St Luke's, which opened its doors in 1975. In those years, the hospital had the privilege of including in its staff some of the leading doctors of Thessaloniki and Northern Greece in general. Having now 45+ years of experience and having performed countless orthopedic surgeries, we could say that the success of the 
Orthopedic department is based on four factors:
In experience and specialized knowledge

In the perfect technological equipment

In the immediate service of patients

In the anthropocentric philosophy of the hospital
‍In the Orthopedic Department of the hospital, hundreds of orthopedic operations are performed annually. Many of them require hospitalization, while others are performed on outpatients with a minimal stay in the hospital. 
The most common procedures performed daily include:
Arthroplasty

Knee arthroscopies

Fractures and injuries of the musculoskeletal system

Hand operations

Microsurgery operations

Foot operations

Spine operations

Operations on children
‍
Special orthopedic departments
Department of Sports Injuries and Arthroscopic Surgery

Department of Musculoskeletal Oncology

Department of Hip and Knee Reconstructive Surgery

Department of Pediatric Orthopedics

Department of Hand Surgery and Microsurgery

Department of Spine Surgery

Department of Shoulder and Elbow Surgery

Department of Foot and Ankle Surgery

Department and HR
In the Orthopedic department of St Luke's, you will receive specialized care from specialist orthopedic surgeons with extensive experience, deep knowledge and modern training on all the individual subjects of orthopedic surgery. Special departments of orthopedic surgery operate in our hospital. Each individual department is staffed by specialized surgeons and therapists, with the sole aim of treating patients with diseases and problems of the musculoskeletal system.
Modern equipment
Diagnostically, the hospital has state-of-the-art magnetic and CT scanners, which offer valuable help in the diagnosis of diseases and injuries of the musculoskeletal system. Therapeutically, five modern fluoroscopic machines (C-arm), including a small one (mini C-arm), help orthopedic surgeons to perform complex surgical operations with great precision and in the best possible way. Modern arthroscopic equipment and advanced technology surgical tools and implantable materials are used daily by the doctors, achieving excellent postoperative results. Our hospital also has five state-of-the-art surgical microscopes used in microsurgery and spine procedures. In addition, state-of-the-art operating theaters, with a vertical air flow system, reduce the risk of surgical infections to a minimum.
Philosophy of the people of the department
The center of the department's therapeutic approach is the patient as a human being. Our goal is not only to treat the orthopedic problem, but also to relieve the patient from the anxiety and insecurity created by the appearance of any disease.
"…for the benefit of those who come…"
Doctors, nurses and therapists are constantly at the patient's side trying all together, as a team, to provide the best possible solution to his problem.
Vanguard of the department
At St Luke's hospital, arthroscopies were applied for the first time in Northern Greece. At first they only concerned the knee, while later also other joints. Arthroscopy, which was initially only diagnostic, was also applied therapeutically to the knee joint. 
Today, in all special orthopedic departments, pioneering operations are performed, such as:
Cartilage and meniscal transplants

Unicompartmental arthroplasties

Reverse shoulder arthroplasties

Tendon transfers.